what you need to know
Map of Libreville- Gabon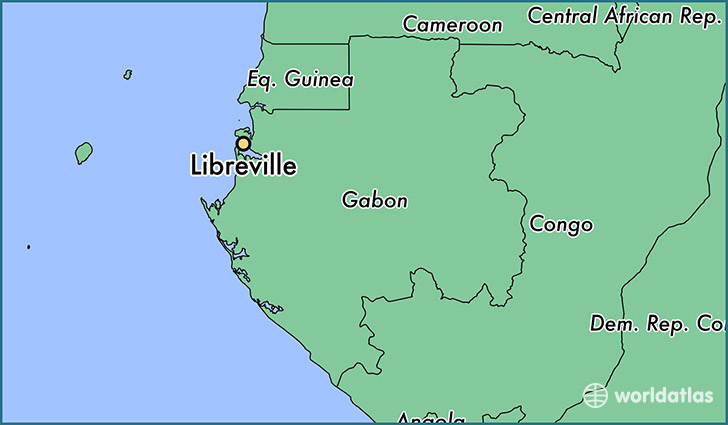 The muscular heart of Gabon, Libreville is Gabon's only real city and home to over a third of its population. It's also a city awash in oil money and almost totally unrecognisable as an African capital to anyone who's been travelling elsewhere in the region. Pavements, clean streets, smart restaurants and vast gated villas are the first impressions of the town, but stay a little longer and you'll easily discover Libreville's vibrant African heart beating away in the crowded street markets and busy residential ares further back from the gleaming coastline. Any visitor to Gabon will pass through Libreville, but be aware, this is one of Africa's most expensive cities and will drain your wallet almost as quickly as being on safari.
Area: 258 km²
Population
Libreville. Libreville is the capital and largest city of Gabon, in western central Africa. The city is a port on the Komo River, near the Gulf of Guinea, and a trade center for a timber region. As of 2013 its census population was 703,904.
Language
French is the official language of Gabon and it is also the medium of instruction.
Currency
The Central African CFA franc (FCFA) is the official currency of Gabon (along with five other central African countries).
The Central African CFA Franc is the official currency of Gabon., Credit cards are not universally accepted. Some of the best hotels, including the ones listed above, ask that you pay for your first night in advance with cash. Come prepared with a wad of cash. Visa and Mastercard are accepted at most major hotels. You're likely to have some trouble with American Express.
When you leave the large international hotels, you'll find that Gabon's economy is largely cash-based. Because of the strong Francophone influence, you can get away with using Euros in most places. Dollars are accepted, but not to the same degree as Euros.We suggest, as we do for many countries, traveling in Gabon with 50 single dollar bills or 50 single Euro notes, so that you do not have to change money.
ATMs are available in major urban centers. We advise using recognizable international banks. This is the most effective way of getting Central African Francs (CFA), Gabon's local currency.
Weather
Libreville features a tropical monsoon climate with a lengthy wet season and a short dry season. Libreville's wet season spans about nine months (September through May), with a heavy amount of rain falling during these months. The city's dry season lasts from June through August and is caused by the cold Benguela Current reaching its northernmost extent and suppressing rainfall. Despite the lack of rain, Libreville remains very cloudy during this time of year.
Language
French is the official language of Gabon and it is also the medium of instruction. There were only a few numbers of Gaboneses who can speak French during the World War II and they either work in the government or manage their own business. When France sought universal primary education, all its African territories were ordered to learn French. Between 1960 and 1961, approximately 47% of Gabonese over 14 years of age speaks French. In the same year, 13% of the population is considered literate in the language. During the 1990s, about 60% of Gabonese speaks French.
Those who have reached secondary and higher education are fluent in using the French language. Around one-third of Libreville's population—the country's capital— are native French speakers. It is said that France influence and culture remains in the country as seen on its foreign and commercial establishments. Based on statistics, there are around 10,000 French residing in Gabon.
Gabon has indigenous languages which are all members of the Bantu family. The differentiation of these indigenous languages is seen in 40 different Bantu languages. These languages are mostly spoken and are not written.
Gabon's three largest languages include: Fang, Sira (Eshira), and Mbere.
Health and security
The healthcare services in Gabon are reasonably developed, certainly in comparison to contiguous African nations. it was reported that around 90% of Gabon's population had some access to healthcare services, working out at approximately 30 physicians for every 100,000 people. However, at the beginning of the century 30% of population still didn't have access to safe drinking water.As well as these healthcare services, the Gabonese government has implemented vaccination programs designed to protect against diseases, including tuberculosis, malaria, sleeping sickness, leprosy, filariasis, and intestinal worms. As a result, the coverage of these immunizations is high and some vaccinations are required for all people living in Gabon. .In spite of the healthcare services that exist in Gabon, the specter of HIV/AIDS is still a persistent threat, with around 5.2% of the adult population aged from 15 to 49 estimated as having the disease. Expats considering living in Gabon should take the necessary precautions to avoid endangering themselves of contracting HIV/AIDS.
You should take sensible personal security precautions and maintain a high level of vigilance in public places. You are advised to avoid displaying valuables like cameras, smart phones or jewellery. Avoid isolated or poorer areas of towns and walking alone at night. Be cautious on quiet or isolated beaches in and around Libreville, and avoid them altogether at night.
DON'T
Taxis in Gabonese cities operate like buses, picking up new passengers while there is still room in the car. They often take indirect routes. There have been reports of violent assaults and robberies on taxi passengers. Only use authorised taxis and preferably book one from a reputable company or through a restaurant or hotel. There have been reports of car-jackings in Libreville.
Road conditions are poor in most local areas and driving can be hazardous. During the rainy season from October to mid-December and mid-February to May many roads are passable only with a four-wheel drive vehicle. Avoid travelling by road at night. Police checkpoints are common; you may be asked to show your passport, driving licence or vehicle registration documents.
DO
Gabon's former president, Omar Bongo, ordered the construction of the Palais Presidential on Libreville's waterfront in the 1970s. Costing an estimated US$800 million, it came close to bankrupting the newly independent nation. Even though visitors are not permitted inside the heavily-guarded palace, you are able to view its spectacular modernist design and take photographs from outside.